Minimum 10 minutes by free shuttle bus from Haneda Airport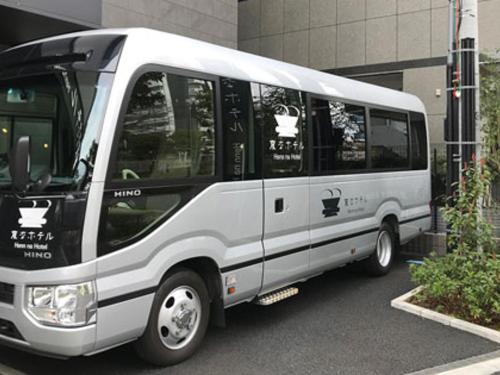 Haneda airport ⇔ hotel between Haneda Early morning and late night arrival departs from 3:45 to midnight 0:30!
From the hotel, 16 free shuttle buses traveling around Haneda Airport's domestic first, second and international terminals are operated. You can use it at your favorite time according to early morning and late night flights.
【Shuttle bus information】
Our hotel shuttle bus is on a first come, first serve basis.
Please note that you will not be able to board the bus if it is full.
The maximum number of persons that can board one bus is 20.
The bus will pull up at the front entrance so please make sure to arrive at least 10 minutes before departure.
If the bus is full, please consult the staff so that they can arrange a taxi for you.
It is more or less 3000yen to Haneda Airport from Henn na Hotel Tokyo Haneda by taxi.
Please check the time schedule for the shuttle bus below.
Henn na Hotel Tokyo Haneda ⇔ Haneda Airport
Free Shuttle Bus Time Schedule
Haneda International Terminal
If you are coming from the international airport terminal, the bus stop is located as follows:
●Head to the bus departure and arrival floor of the terminal, following the directions toward
 "Free shuttle bus to go to the domestic terminal."
●The bus stop is located near the police box .
●The color of our Henn na Hotel bus is yellow.